About Us
My love for the Weimaraner began as a teenager when my family was asked to look after a Weimaraner by the name of Shieba who ended up staying with us for a very long time.
So when it was time as an adult to add a family pet to our home we considered a few different breeds but decided that the Weimaraner would be the breed for us.
We purchased our first show male puppy Weimaraner by the name of Luger in 1995 and a year later purchased a one year old female by the name of Cody with the intent to become breeders. Sadly Luger had to be euthanize at the age of three due to his immune system failing after an overload of Vaccines and then we lost Cody after she got into a compost heap at my dads farm, bloated and her stomach tortioned at the young age of six.
My quest for another Weimaraner came after a move to Prince George, BC were I reside now.
Low and behold I found a reputable breeder in Langley, BC and was put on a waiting list for a female show puppy. Soon after I was contacted by the breeder wanting to know if I would be interested in her one year old pick female that had been returned to her. I jumped at the opportunity and within days I was at the airport picking up a stunning one year old puppy by the name of Lacey.
Lacey became a wonderful show dog with a Best in Show to her credit and my foundation bitch.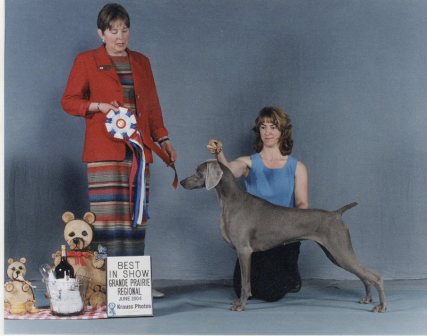 BIS CH ANSONS LEATHER AND LACE
Produced
CH ANSON TARGET PRIM PROPER (Pheobe) Sire: CH RUDOLPH CASPER (Casper)
CH ANSON'S TARGET VANITY AFFAIR (Kelly) Sire: AM CH NANI'S INDECENT EXPOSURE (Streak)
AM/CAN CH TARGET'S TROPICAL STORM HANNAH (Hannah) Sire: CH QUANTREL N TARGETS MOONLIT RYD (Ryder)
CH TARGET ANSON NORTHSTARSHALAMAR (Shalamar) Sire: CH QUANTREL N TARGETS MOONLIT RYD (Ryder)
BPIS TARGET ANSONS EXPECTANT SPIRIT (Tikka) Pointed Sire: CH QUANTREL N TARGETS MOONLIT RYD (Ryder)
TARGET ANSONS PHANTOM NORTH (Phantom) Pointed Sire: CH RUDOLPH CASPER (Casper)
TARGET'S SWEET CHILI HEAT (Chili) Pointed Sire: CH QUANTREL N TARGETS MOONLIT RYD (Ryder)